About CEUWC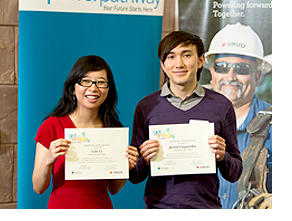 Imagine where we would be without energy. Energy powers the mobile devices we can't live without. It lights our homes, our schools, and our workplaces. Now, it can even power our cars and transportation. We flip a switch and it's there. We turn on a faucet and clean water pours out. These things make modern life possible, and you can be an instrumental part of making it all possible happen. Just think about how much of your life relies on energy and utility companies and you'll realize the difference you can make with a career in energy.
The goal of our industry is to find better and more efficient ways to create and utilize energy to meet future needs — and to do so, we need your energy. We're looking for a new generation of brilliance to power the innovation, ideas and passion that will power our ability to deliver energy.
The goal of the California Energy & Utility Workforce Consortium is to provide you with information, resources, and opportunities that will empower you to make an informed decision about an energy or utility career. From understanding roles and responsibilities, to planning your education and experience, this site is your window to the possibilities that lay ahead.