Professional Resources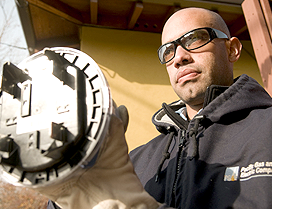 If you're looking to augment your career with a high-growth opportunity, or even if you're looking for an exciting and evolving industry for a career change, the Energy and Utility Industries are great options.
With increasing demand and advancing technology, you'll begin building the future of energy today, and help us create a efficient and sustainable tomorrow. Now that you've discovered the career possibilities within our industry, explore some of the programs available to you that are designed to bring you closer to your next opportunity.
Education and Certification Programs
PowerPathway
A PG&E initiative that makes an array of training programs available to you for roles across the energy industry. PowerPathway gives today's youth, especially from underserved communities as well as military veterans, the education and training necessary to perform some of the energy industry's high growth opportunities.
American River College: Solar Energy Systems Design, Estimation, and Sales Certificate
The Solar Energy Systems Design, Estimation, and Sales certificate provides training in all aspects of solar photovoltaic (PV) system design, cost estimation, sales, and installation.
Cosumnes River College: Environmental Design and Energy Management
Includes green strategies for high performance buildings and livable communities. It is focused at students and professionals in the fields of architecture; construction; building management; construction management.
Green Technology Directory of Sustainability Programs at California Community Colleges
Community colleges throughout California are implementing green/sustainability programs. Green Technology, a non-profit informational initiative, compiled a great list of community college green programs.
Laney College: Green Jobs Education
Programs include the Building Performance Institute Certification program, Energy Efficiency Sales, Auditing, and Retrofitting, Solar Photovoltaics Design, Sales, and Installation Certificates, Environmental Controls Technology program.
Sonoma State University: Energy Management and Design
Sonoma State University offers a program in the Department of Environmental Studies and Planning that prepares students for professional careers in the energy field.
U.S. DOE Colleges and Universities
Resources on higher education opportunities in energy, particularly those concerning energy efficiency and renewable energy.
Camps and Clubs
National Society of Black Engineers (NSBE)
One of the largest student-governed organizations in the country, NSBE is dedicated to the academic and professional success of African-American engineering students and professionals.
Society of Hispanic Professional Engineers (SHPE)
A national organization of professional engineers to serve as role models in the Hispanic community, SHPE enjoys a strong network of professional and student chapters throughout the nation.
Society of Women Engineers (SWE)
SWE focuses its efforts on introducing young women to careers in engineering, demonstrating to employers and the public the critical role women engineers play in creative teams, and providing support to women engineers as they advance in their careers.