Careers in Energy Week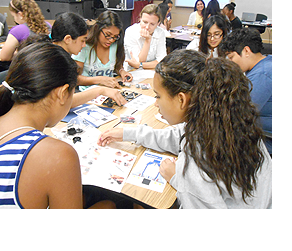 The California Energy & Utility Workforce Consortium presents Careers in Energy Contest
We need your help to recruit students to pursue careers in energy!
Contest Guidelines
Purpose:
The Careers in Energy contest is an effort to increase awareness about energy careers and promote science, technology, engineering and math (STEM) education. Through this contest, we hope to build awareness of the growing opportunities within the energy and utilities industries including careers many may not be aware of, as they are not typically associated with the industry.
Prompt:
Students may not be aware of the variety of careers available in the Energy and Utility industry. Your job is to introduce them to an occupation not typically associated with the Energy and Utility industry such as IT, Finance, or Conservation.
To introduce your fellow students to these occupations you will need to create an advertisement that describes your chosen career in the Energy and Utility industry. Your advertisement should show students the diverse spectrum of career opportunities and attract them to this field.
Keep in mind that Energy and Utility companies hire people from high school, trade school, Community College and 4 year university programs. Jobs like utility worker, welder, or system operator may only require skills from a 2 year (or shorter) skilled craft or trade program. Other jobs like Electrical Engineer, Corrosion Engineer or Renewable Energy Analyst require a bachelor's or master's degree.
Media:
You may choose between using a video or text/photo advertisement to make your fellow students aware of career options. You may use any form of social media, including creating or using a hashtag (think: #ilooklikeanengineer).
You may choose one form of acceptable entry:
Text/Photo ad (1 page maximum)
OR
Video commercial (1:00 minimum – 2:00 minutes maximum).
File types must be pdf, jpg, wma, avi, mov, or mp4 and a maximum of 300M
Group submissions will not be accepted.
Judging Criteria:
You will be judged on:
How well you kept to the focus of the prompt
How organized and convincing your advertisement is
Level of creativity and innovation
California high school and college students are invited to participate.
Prizes:
Cash prizes will be as follows:
College Video:
1st place: $1,500
2nd place: $1,000
College Photo/Text Ad:
1st place: $1,000
2nd place: $500
High School Video:
1st place: $1,000
2nd place: $500
High School Photo/Text Ad:
1st place: $500
2nd place: $250
Timelines:
Submissions may be submitted starting August 15, 2017 and will be accepted through October 31, 2017.
Judging will take place in November and December and winners will be notified by February 2018.
The submission form can be found https://form.jotform.com/62516530904957
.
More Student Resources